So You Want a Fixer Upper? All You Need to Know About Rehab Loans
Posted by DC Turner on Sunday, July 9, 2023 at 3:37 PM
By DC Turner / July 9, 2023
Comment
Have you ever considered buying a fixer upper? Maybe you have watched HGTV and seen the transformation that can occur. Or maybe you want to put some sweat equity into the property. Whatever the reason, a large number of home buyers consider this option. If you want to go this route, one of the first things you need to do is consider financing. Both conventional and government backed loans have programs to finance the home purchase along with the renovation.
Regardless of the route of financing it can be expected that the loan process will be extended. This is because, in addition to the normal process, the buyer has to get multiple quotes from contractors for the scope of work. Expect closing times in the 60-90 day range. Keep in mind that using a rehab loan will stop you from doing any sweat equity. The work must be done by professional contractors and cannot have any personal or professional association with the borrower.
Conventional Rehab Loans
Both Fannie Mae and Freddie Mac have programs for rehab loans. They both require a 620 credit score and a minimum down payment of 3%. Qualifying isn't much different except that you have to qualify for home plus renovation. Depending on the lender there might be 2 appraisals, one up front with a projected value of once the work is completed and then a re-inspection once the work has been completed. Freddie Mac has 2 different programs. One is for smaller renovations under $35,000 while the other, like Fannie Mae's program, includes larger renovation projects. Work is generally required to be completed within 12 months although some lenders might have more stringent timeframes. The general contractor must be approved by the lender. Depending on the scope of the work the contractor might be paid in increments, called draws, instead of being paid upon completion.

Government Loans
While the government loans have some similarities, each program is unique. One of the similarities is that they all allow borrowers with as little of a credit score as 580. Other than that, the programs are quite different. As with a conventional loan, borrowers must qualify the same as they would a normal loan.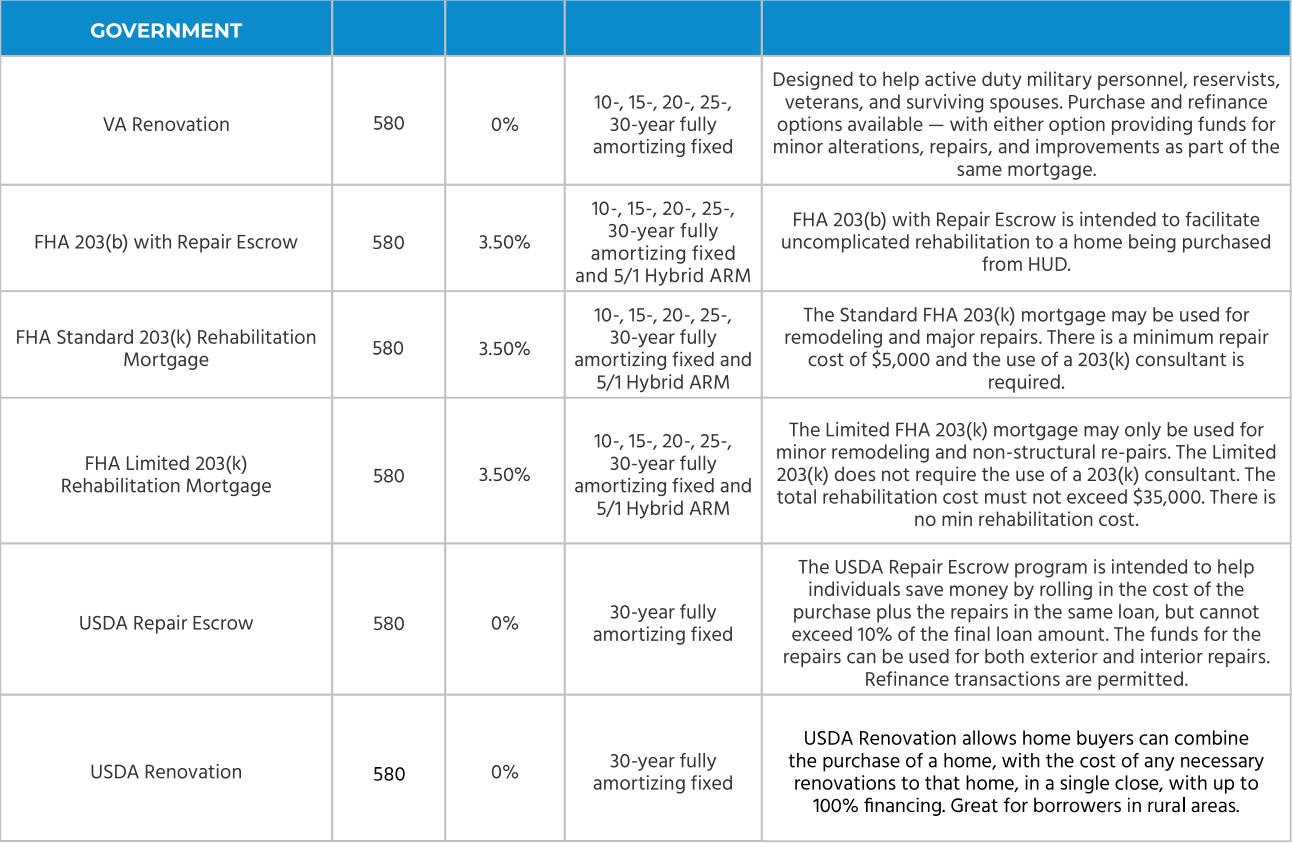 VA Rehab Loans
For a VA rehab loan the general contractor must be on the VA's approved list. This loan can be used for purchases or re-finances. With no down payment and credit scores as low as 580 this can be a very beneficial program to those who qualify.
FHA 203k Loans
FHA rehab loans are referred to as section 203k. As with the other FHA loans, you can put down as little as 3.5%. This program differs in that it requires an FHA consultant to oversee the work. This will add to the cost of the loan. There are 2 different programs. One is for repairs that are non-structural with a maximum cost of $35,000 while the other allows structural repairs and has a minimum repair cost of $5,000.
Should I Use One?
In the end, the decision to use one of these programs is dependent on your need. Ultimately it adds complexity and cost to your home purchase so it might not be the best idea for first time home buyers. Even for seasoned buyers, it might not be best to specifically seek out properties to use on of these programs. If, however, you find a home in need of work that otherwise is perfect then it might be worth exploring. But only if everything else about the home is exactly what you want. If you have any further questions or would like to learn more about buying or selling a home please contact us.